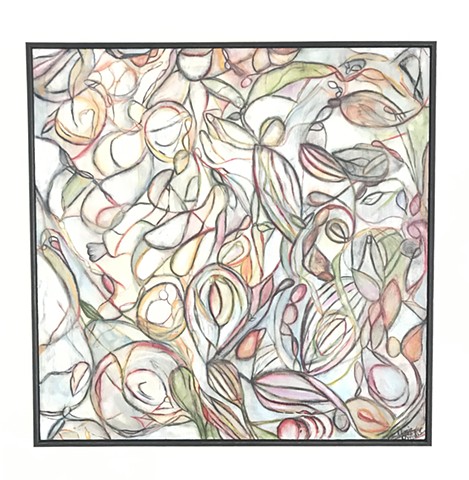 Ever since I was a little girl I've been intrigued by life's big questions; what is consciousness, where does it come from and where does it go from here? After my Dad's untimely death in 2010, these questions became even more significant to me. I devoured every book I could and found myself making interesting connections between science, religion and the basic laws of nature. As I continue to read and expose myself to new ideas, my artistic eye also changes.
Art has become my vehicle to explore and make mental connections about what I imagine lies beyond the veil of human perception. My sense that everything in the universe is connected and animated through a common thread of energy is pervasive in my work. I'm fascinated by nature's propensity to repeat itself in everything from botanicals, sea and wildlife, to human biology and the celestial bodies, just to name a few.
I paint in the Abstract Expressionist Style because it closely mimics my mental dance between searching, sensing, and knowing. My experimentation using layers of bold saturated colors and organic shapes keeps me in a constant state of evolution as an artist. Ultimately, I find beauty and inspiration in all of the creations of the universe and strive to play off of them rather than simply recreate them.
I live on Mercer Island, Washington with my husband, three teenagers and cartoon-like mini English Doodle. I received my Bachelor of Arts degree in Communications and later went back to school to earn a degree in Interior Design. I've enjoyed running my own small Interior Design Business; however, my heart lies with painting.